How E-Mentoring Works
Students register on iCouldBe and select their mentors based on personal career interests and collaborate on structured, interactive activities grouped into themed "quests" to achieve outcomes in social emotional development, self-efficacy, self-direction, curiosity, problem-solving, college and career aspirational development. Mentees lead discussions with their mentors on themes including academic success, preparing for graduation, gaining work experience, preparing for future education and networking. Mentors provide feedback and support their mentees' efforts to: 1) define personal challenges or goals; 2) determine potential solutions and strategies; 3) identify networks of people who can help and how they can help; and 4) engage people in their network in the solution.
The iCouldBe program is embedded in classrooms led by trained teachers and implemented one class per week during the school year. Mentors can participate from any location at any time convenient to them through asynchronous online conversations. After mentees and mentors respond, automated emails or text messages are sent encouraging receivers to log in and reply. Safety protocols filter and block and flag personally identifiable information and inappropriate content to be reviewed by staff to ensure online safety for all participants. Dedicated staff support mentees, mentors, teachers and partners. iCouldBe measures and reports on ongoing participation each week of the program to ensure program outcomes and impact are achieved. The activities help mentees develop broad networks of support to identify their career aspirations and the resources and tools to achieve their goals.

Our Results
12.7
Mentoring Hours
Per Mentee
Mentees Achieve Important Outcomes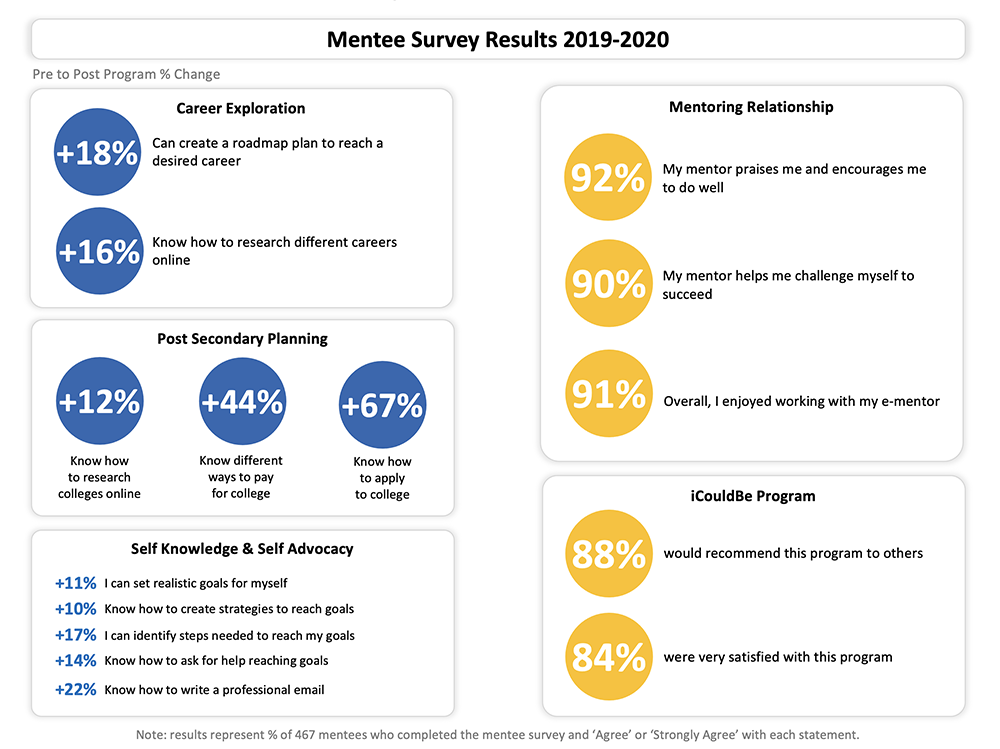 iCouldBe Impact: Increasing Social Capital
Research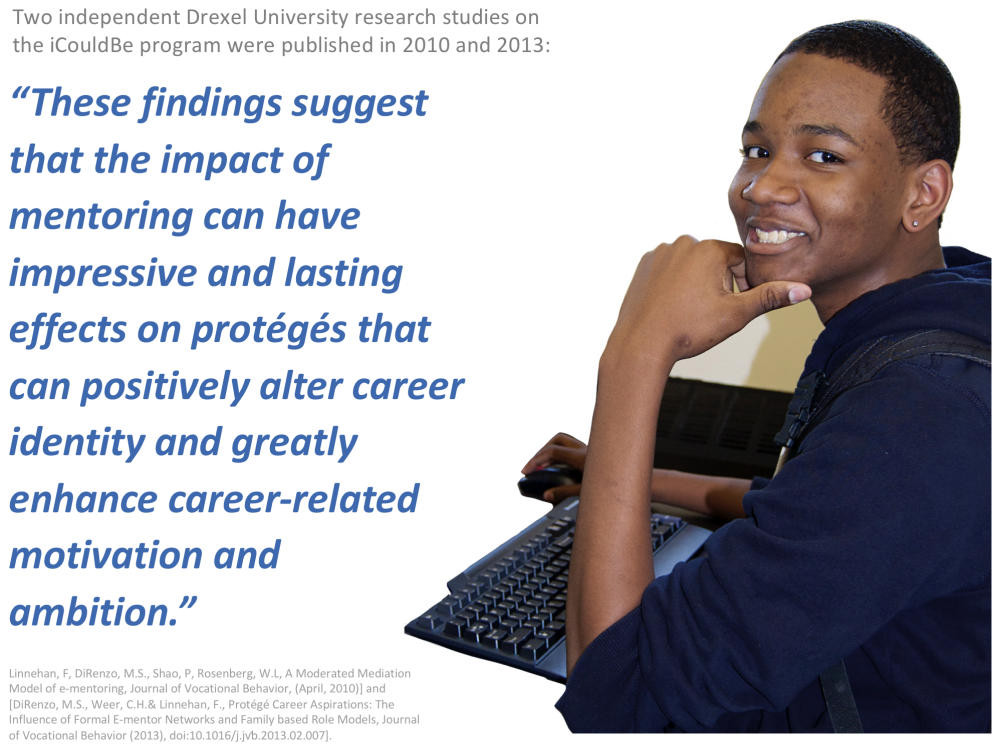 Child Safety
iCouldBe is a leader in online safety and fully complies with the Children's Online Privacy Protection Act. Protecting the young people we work with is our top priority. We do this by performing identity verification and criminal and sex-offender background checks on all potential mentors, monitoring and filtering communications through our state-of-the-art system, and requiring our mentors to notify us of any inappropriate, illegal or potentially endangering communications.
Background Checks on Potential Mentors
U.S. and Canadian mentors are required pass a thorough background check in order to participate in iCouldBe. This includes a National Criminal Check, a National Sex Offender Check and an Identification Verification.
Monitored and Filtered Communications
All communications between mentors and mentees occur internally within the iCouldBe system and are subject to filters and monitored by program staff. Mentors and mentees utilize user names to protect their anonymity and do not communicate via their personal email addresses or identify the user's name or place of residence.